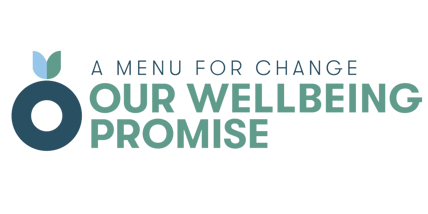 Happier & healthier lives, one dish at a time
We're committed to helping our clients, customers and colleagues have access to healthier food. Our goal is to build a culture that encourages healthy eating and supports mental wellbeing for the millions of people we feed, as well as our people – enabling them to bring their best selves to work.
So far, we've significantly reduced sugar, salt and fat across 36,000 recipes, and now we're working to embed this culture across our business.
One: Healthy food for a healthy population
We serve 180.9 million meals a year, feeding thousands of people every day in many settings - from education, defence and the workplace to events, leisure attractions and sporting venues.

Our recipes are evolving to increase fibre and sources of wholegrain while reducing levels of fat, sugar and salt. We'll be reformulating every one of our 90,000 recipes to make them not only healthier but more planet-friendly, too.
Two: Encourage healthier behaviours & choices
By engaging with our customers and consumers on the latest health and wellbeing science, we've been offering practical advice, tips and tools while sharing our delicious, healthy and sustainable recipes through our Nourished Life platform.

Through research and collaboration with leading academic partners, Non-Government Organisations (NGOs) and the Government, we're supporting the development of a broader national framework that encourages customers to make healthier choices.
Three: Empower our employees
Wanting to create a culture that is positive and conducive to a happy and healthy workforce, we're upskilling our employees to be experts on healthy eating and champions for positive wellbeing.

We'll provide accredited nutrition training for all our tens of thousands of employees, not only supporting them with their own wellbeing but enabling them to support the customers we serve.
All our employees have access to a wider range of wellness initiatives and information, all easily accessible through our Nourished Life platform and other digital platforms.


Five: Championing health & wellbeing for all
For many, health and wellbeing is a luxury – we know that. Many people make food choices based on what they can afford, rather than what they want. We are working with our clients to encourage healthier eating through education and behaviour change, and with our suppliers on reformulating core ingredients.

In October we announced that where we serve food, our employees will have to access to a free meal in their working day. This has resulted in us providing 200,000 free meals a week. We are also working with food poverty charities and NGOs that make healthy food more accessible.
Six: Accountability & transparency
The success of our health and wellbeing commitments will be made transparent to our clients, consumers, suppliers, employees and other key stakeholders. Honesty and openness are key aspects of our company culture, which is why we welcome opportunities for feedback on our health and wellbeing policies and practices.